NATASHA'S LAW LABEL PRINTING
NATASHAS LAW - EASY GUIDE
- READYMADE SOLUTIONS
WHAT IS NATASHAS LAW
Natasha's Law - is named after Natasha Ednan-Laperouse who at the age of 15 passed away due to a severe allergic reaction.
Natasha's Law - is a new allergen legislation that requires food packed on the same site from which it's sold to be labelled with ingredients and allergens.
Natasha's Law - helps consumers to easily identify the meal ingredients and especially any items that could cause an allergic reaction.
Natasha's Law– is in force from October 2021 this year.
---
ESSENTIAL
You will need to apply a label to your product
packaging that clearly shows the ingredients.
If any allergens are included then those need to be highlighted so they stand out usually by making the allergens in a bold font.
The 14 allergens are: celery, cereals containing gluten (such as barley and oats), crustaceans (such as prawns, crabs and lobsters), eggs, fish, lupin, milk, molluscs (such as mussels and oysters), mustard, peanuts, sesame, soybeans, sulphur dioxide and sulphites.
---
READYMADE SYSTEMS FOR NATASHA'S LAW LABELS

We have put together a choice of readymade label printing packages, all use the world leading best selling BarTender Professional label layout software. You can download a free trial its easy to set up, we show you how...

You can use the BarTenders built in 'Word Processor' feature to bold any allergen words manually.
Or you can use BarTenders 'Print From a List' feature to automatically search your ingredients listings, find and bold the allergens automatically as you print.
Using the 'Word Processor'

BarTender Professional is a powerful but easy to use label layout software. You set the label size, the example below is 50mm x 50mm. Then add the product ingredients using the 'Word Processor'. This allows you to select each allergen word and set it to bold. You can add other information like pack weight, expiry date, barcode and more. The expiry date can be manually entered at print time or can be automatically set and printed based on the shelf-life of the product in days. Using this method you do have to layout a separate label design for each product. You can use the 'Content Scaling' feature to reduce the size of the overal ingredients content so it can fit into quite small labels so the label is not so obtrusive on the packaging even placed somewhere on the back of the package. Note the lower case text height should be 1.2mm minimum. But if the label is under 8 square centimerers for example (80mm x 80mm) then it can go down to 0.9mm to ensure to accommodate all the ingredients on the most full recipe. Ask us for a sample label.

Using 'Print From a List 'has advantages.

BartTender professional has a 'Print From a List' feature. You keep your products with ingredient details in a list and no need to bold the allergens manually. You only need one label design linked to the list. At print time you can search for and select one or more products entering a quantity for each as needed. As the labels are merge printed printed BarTender will automatically find and bold any allergen words on every label printed. You can easily copy a products details from one row in the list to a new row to instantly create a new product based on the copied one. For example a ham and tomato sandwich will have almost the same ingredeints as a ham sandwich, just delete the tomoto ingredient in the title and the ingredients list, change the barcode number and shelf-life as needed. There is no need to open, print and close each label document as in the previous method. Selecting labels needed for printing each day from your product listing takes only moments. Ask us for a sample label.
---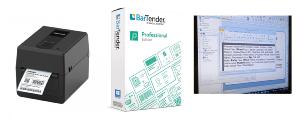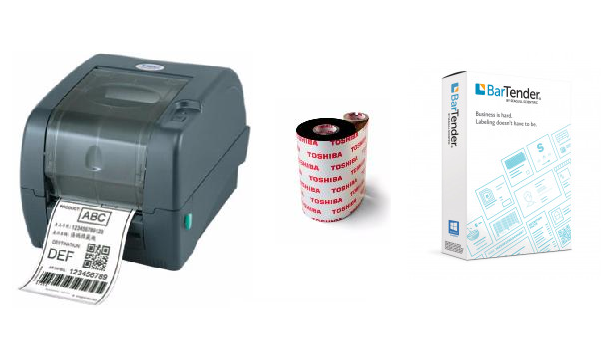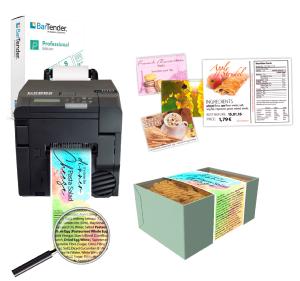 NATASHAS - BASIC DIRECT THERMAL LABEL ROLL PACKAGE
Our NATASHA'S BASIC DIRECT THERMAL kit is a low cost package to print labels with allergens in bold type and to UK GOV Food labelling laws. We include the latest Toshiba TEC BV420 300dpi direct thermal label roll printer + BarTender Professional label software and free set up help and advice. The label printer has a 300dpi print quality needed for that small text size when printing food ingredients. The BarTender Professional label layout software makes it easy to position the product title, ingredients, barcode, expiry date and any other message/s you want to add to the label.
The software allows for you to bold the allergens in the ingredients listing which is the main requirement.
You can use either the Word Processor or Print From a List Method described above.
The THERMAL TRANSFER LABEL ROLL PACKAGE can use direct thermal printing or thermal transfer using a print ribbon to achive a higher quality print. The transfer method uses our plain labels that are also heat proof for food that is served hot.
The COLOUR LABEL ROLL PACKAGE uses fused toner to print variable colour labels. It also has a strong guillotine cutter so can print and cut variabel length colour labels to suit your different size product packages from one low cost plain roll of label media. Or use precut labels to shape and size as needed.
---
---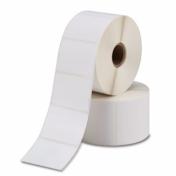 LABELS ON ROLLS
Our customers enjoy the low cost of plain labels direct from our factory, printing their designs in exact quantities. We provide label media as cut labels or slit rolls in a variety of papers and plastics.
Ask us for a label quotation for the size sand shape you need.
---
Contact the experts: call 0044 1527 529713 [email protected]