About us
Originating with expertise in advanced manufacturing, Labels-U-Print ® part of KTEC GROUP has been designing and supplying easy to use DIY desktop label printing systems since we introduced the first barcode label roll printers helping suppliers to Tesco to print barcoded case labels in the mid 1980's. We are Multi-Award winning and famous for helping stat-up companies, middle size producers and multi nationals including Coca Cola alike. We won two Government SMART awards for product innovation.
We were the first to introduce full colour variable data label printing machines in 2000 adding the ability to print variable product pictures.
We continue to lead the way with DIY label printing solutions for food and drink manufacturers, distributors and retailers ensuring they are compliant with the latest UK Government legislation.
We now have the largest ISO QA approved blank label production factory in the UK serving more than 10,000 of our installed customers with 5000 plus different low-cost size and shaped blank labels on rolls. The blank rolls feed the desktop machines allowing our customers to print their own labels. They print labels instantly Just-In-Time and in exact quantities needed for each production batch or order. There is low wastage and zero risk of pre-printed label that out of date or are late arriving.
We are passionate in what we do and always pleased to offer advice and help to install a roll label print system that will suit your budget and business needs.

Telephone:
0044 1527 529 713
Be sure to contact us to discuss your project for the very best advice available.
Eur Ing Robert Knox BSc CEng IMET
MrDIYDigitalLabelPrintMan
Managing Director,
Labels-U-Print ®
KTEC GROUP UK
NATASHAS LAW
Natasha's Law - is named after Natasha Ednan-Laperouse who at the age of 15 passed away due to a severe allergic reaction.
Natasha's Law - is a new allergen legislation that requires pre-packed food to be labelled with ingredients and allergens. Helps consumers to easily identify the meal ingredients and especially any items that could cause an allergic reaction.
Natasha's Law– is in force from October 2021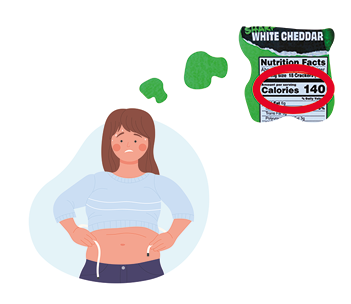 TOTAL CALORIES - is named after Natasha Ednan-Laperouse who at the age of 15 passed away due to a severe allergic reaction.


Importance of variable labels

The UK Government

lists 14 allergens that need to be identified (Natasha's Law) if they are present in your recipe. Food businesses must provide information about the allergens on the packaging itself or a suitable label or tag. That presents a problem if using preprinted packaging with increasing cost of materials and storage needs. Better then to use generic packaging and print and apply variable information labels or tags for each product group at the time of manufacture. Previously variable data has been relatively simple overprinted using thermal roll printers at best at 300 at dots per inch. But with modern label requirements we have seen a massive growth in the amount of information needed on each label. We recommend now to use low cost blank label rolls and print the complete label with a modern colour roll label printer capable of 1200 dots per inch and higher. Then printed information is much higher quality also smaller where needed say for ingredients listings. Colour pictures, logos, brands, events and venue customisation can varied at will to create new exciting looks winning new customers and markets. We show you how....
Any size, any shape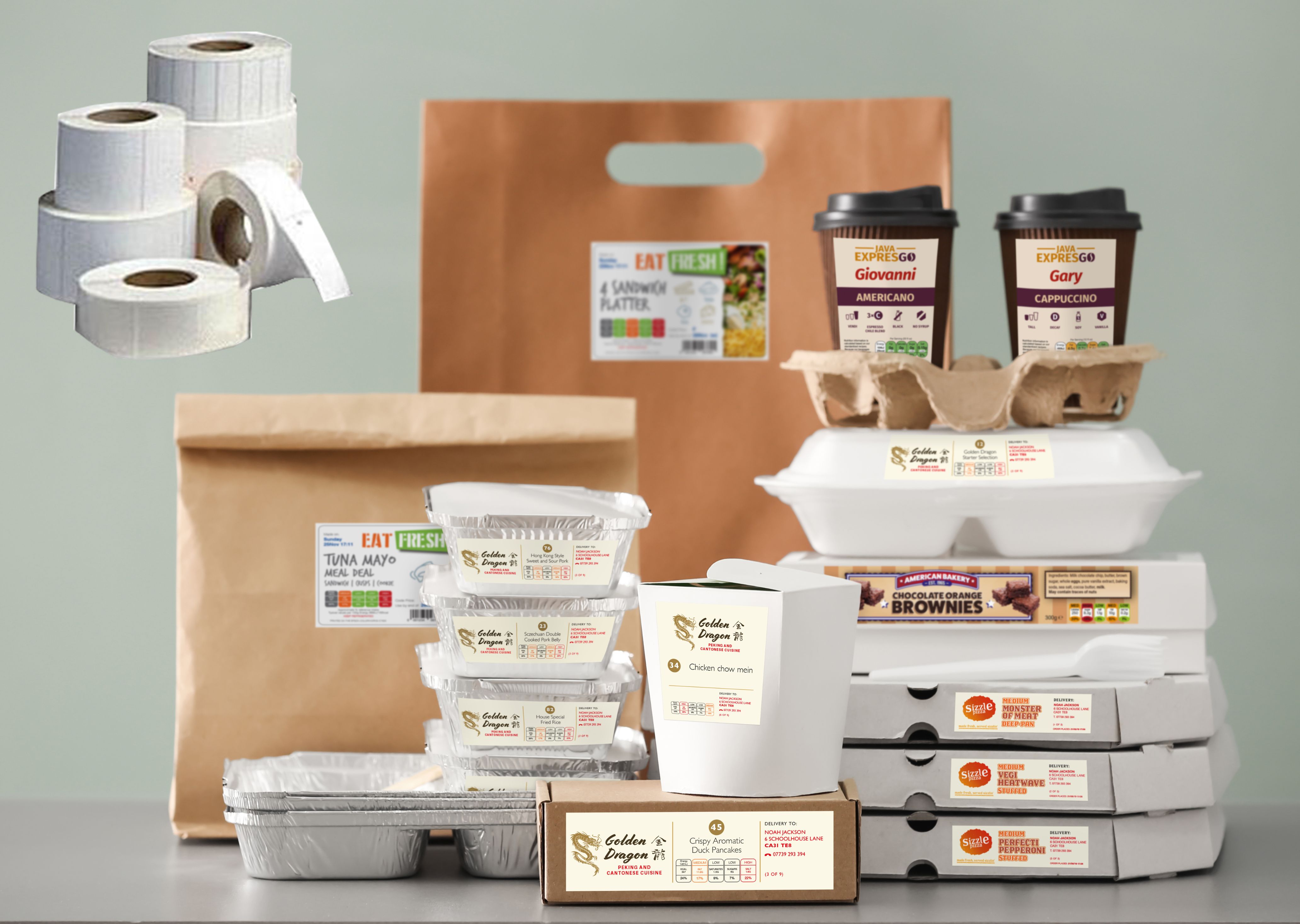 Our labels are supplied low cost unprinted die-cut to size on a roll. We have over 6000 standard rectangle, rounds, squares and shapes. Inevitably you may need a special shape to fit your packaging. It may need to be tapered at the sides for a food tray or say watch shaped with a round part and tabs to fit on top of a salad box. Whatever the shape of label on a roll the roll is loaded into the label printer.
So you set the label width and height into the included label layout software to create an artboard onto which you add the designs and print as many labels as needed for each product in exact quantities and no wastage.
Standard size labels on rolls in our on-line store for next day delivery -

READ MORE..
Need a special shape to fit your packaging?
Send us a sketch or the package itself, we design and fit the label to it. You may recognise some of our work.
Sometimes we need to make a physical fit test but always print samples for approval.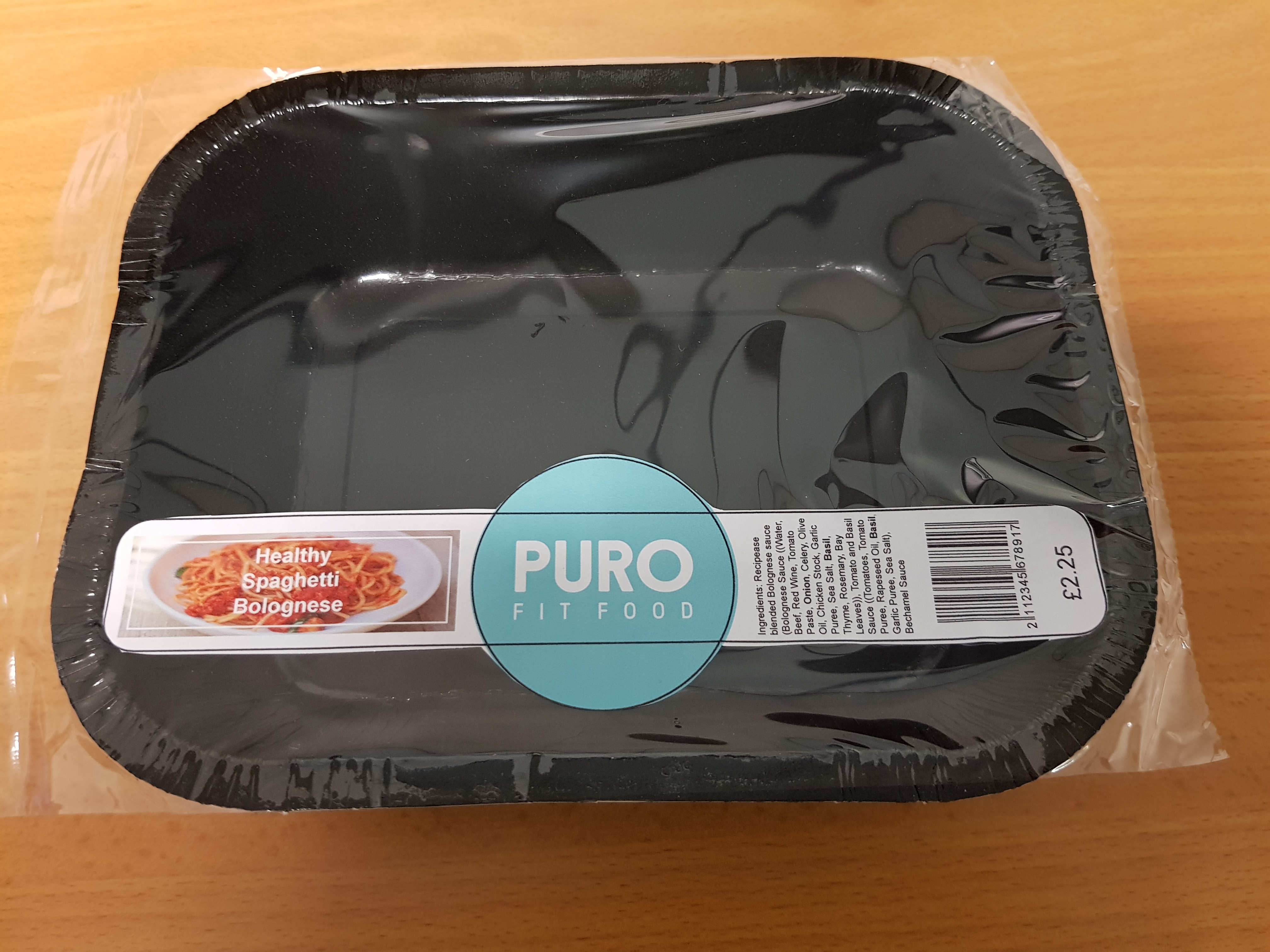 The label should be prominent holding the required information but not hiding the product to be displayed.
Whats needed on a food and drink la

bel

(best viewed on a desktop)



BarTender free
You will want easy to use software to layout your labels. We recommend the world leading BarTender label design and print software. You can start very simple yet upgrade it as you grow. You can quickly drag and drop your pictures, logos and text onto the label and move the parts about quickly for a the best look. BarTender has drivers compatible with most label printers making it a plug and play set up. You can try it free even get help from us we are BarTender specialists. Register and download your copy of Bartender here. CLICK HERE
BarTender Pro (print from a list and automate allergens)
Choose BarTender Pro if you would like to automate your label printing. If you have say 10 or more product label designs you will benefit from linking just one label template to a product list. You keep your product details, label images in text form in say MS EXCEL or similar spreadsheet making it easy to copy rows to make new products as well as editing the information when needed. When you come to print the days labels the user sees a locked snapshot of your product list and can select one or more products, key a quantity for each and press the 'print all' button. BarTender will sequence through the days selection printing the exact quantity for each product in moments. Whats more the Allergens can be held in another short list and BarTender will automatically detect allergen words to highlight - itallic - bold them as desired. The Layers feature can be used at print time to instantly change the colour or complete look of the label say for different product groups or customers.
Watch how we build a label linked to a database. CLICK HERE
Purchase BarTender Pro CLICK HERE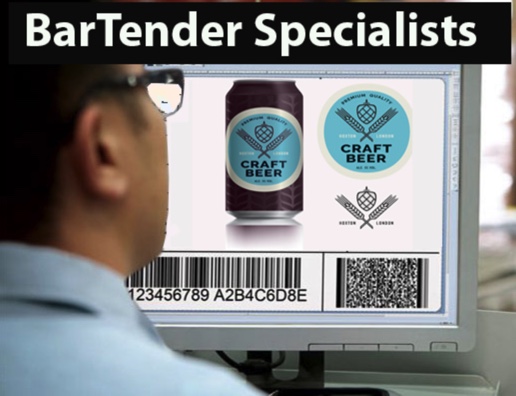 BarTender Automation and Enterprise

Automating label printing direct from your internet orders is the future but available now with BarTender Automation. Automation and Enterprise add the ability for large organisations to get group wide connectivity so there is no limit with BarTender. BarTender is a solid rock on which start and grow your label printing needs. See all levels of BarTender CLICK HERE
Food Recipe software (where do I get the nutrition information)
The popular BarTender is our most sold easy to use label layout and print software. Customers ask - Where to I get the nutrition information?
You can copy the ingredients and nutrition information from the ingredients packets or from the suppliers specifications transferring the total values to your labels or product spreadsheet cells if using a the Pro version. On-line applications like Nutritics and AlaCalc let you build recipes by entering your ingredients by weight and report back nutrition, allergen and Quid information to include on your labels.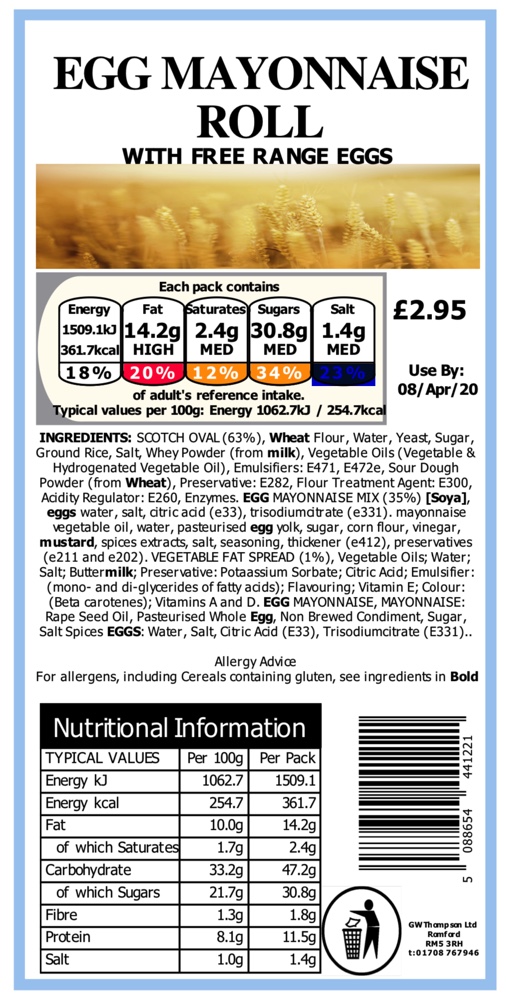 The Food Manufacturing System (FMS) is a fully integrated recipe build and label print system. In one package you can build your product recipes and design labels with pre-made boxes for the key areas containing detailed composition, nutrition table and front of pack lozenge. FMS allows for custom The information is mapped to the label shape designed all to UK Government requirements. If any one ingredient is changed or substituted then the FMS system flushes the changes through all of your product information in seconds ensuring each product label printed is showing details of the exact contents. Automatically calculate the ingredients list in the correct order including QUIDS. Automatically highlights allergens in the list.
* Easily print product specifications
* Create label print queues for regular label runs
* Works with any printer with a Windows printer driver
* Product costing and ingredient yields
* Easily check which products contain which allergens
* Easily search and replace ingredients
* Integrates with third party software and hardware
* Easily find what products are using selected ingredient
* Full colour printing for our colour enabled printers
* Comprehensive reporting options
Epson roll label printers



Epson colour roll label printers are proven with us as ideal for food labellling with a good print speed and large tanks of durable pigment ink good for ambient, refrigeration or freeze and providing a low cost per label. Epson have a unique piezo electric print head (precision core) that is guaranteed for life with warranty. Celebrating with Epson as top ColorWorks partner two years running we include a Free EPSON CoverPLus warranty extension from the normal 1 year to 3 years with purchases between 1July and 30 September 2020. Optional external roll winders available for large capacity needs.