Hello: My name is Robert Knox, Managing Director of KTEC GROUP UK. I am a Chartered Engineer from an Advanced Manufacturing Technology background. I would like to tell you our story along with a timeline that represents the development of KTEC GROUP alongside the development of DIY digital label roll printing, our specialisation and passion....
Concept born (1984): I first printed my own barcode labels on a TEC (now TOSHIBA TEC) desktop roll label printer back in 1984 to help identify and track pallets of parts through automotive factories when working as a Just-In-Time manufacturing specialist here in the UK.
We refined the processes to make car parts in moments but could not dispatch them to customers without labels. The labels took an unacceptable three weeks to arrive. I thought of the idea of designing and printing my own labels just when I needed them using my PC computer and specialised roll label printers were just becoming available. I was so excited with the results I started the company KTEC Technologies Limited dedicated to sell and support the emerging digital label roll machines under the brand 'Labels-U-Print ®'
Barcode Labels (1986): By good luck (right place right time) food Supermarkets were instructing their suppliers to barcode everything for automating stock control and receipt printing. For many years we installed thousands of barcode label printing machines, many are still in operation today. We still operate a main dealership for TOSHIBA TEC label printers, ribbons and labels. Electronic Article Numbering (EAN13) barcodes are most familiar on retail goods we buy. But other types of barcodes are used for stock control, distribution tracking and for helping with traceability and possible recall.
Click on the barcode printer photo to see the latest range of barcode label printers.
Blank Labels Factory Direct (1986): We have grown our established tool library and material stocks to deliver labels on rolls in over 6000 sizes and 34 material types. We manufacture and carry a range of standard size gloss paper labels on 4 and 6 inch diameter rolls to suit our ink jet and thermal transfer roll label printers. But at our ISO factory we have 8 ABGraphic high speed state of the art label die-cutting machines where we manufacture labels on rolls for our customers at low prices.
Click on the label rolls picture to choose from our thousands of labels sizes on rolls.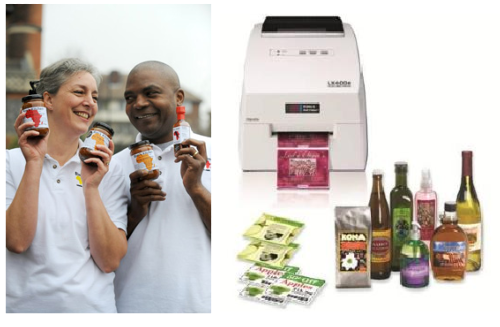 Colour arrives (2003): Yes in about 2003 I think it was, we introduced the first desktop full colour label printers from Primera USA. Well our business expanded to another level. For the first time we could help even the smallest producers print high quality labels for their various products in moments.
Customers were happy to print colour labels instantly not needing to hold stocks of pre-printed labels that may go out of date regards correct ingredient / instructions. They could also add the correct expiry date and batch number as they printed labels for each product sort so removing the need to add any additional date labels or markings. Customers were able to print personalised labels for say bottles of wine. I still call some of our early customers 'My Jam Jar Persons' since we had many small kitchen producer customers excited to be able to print their own full colour product labels for the first time. Click on the colour label printer photo to see our full range of colour label printers.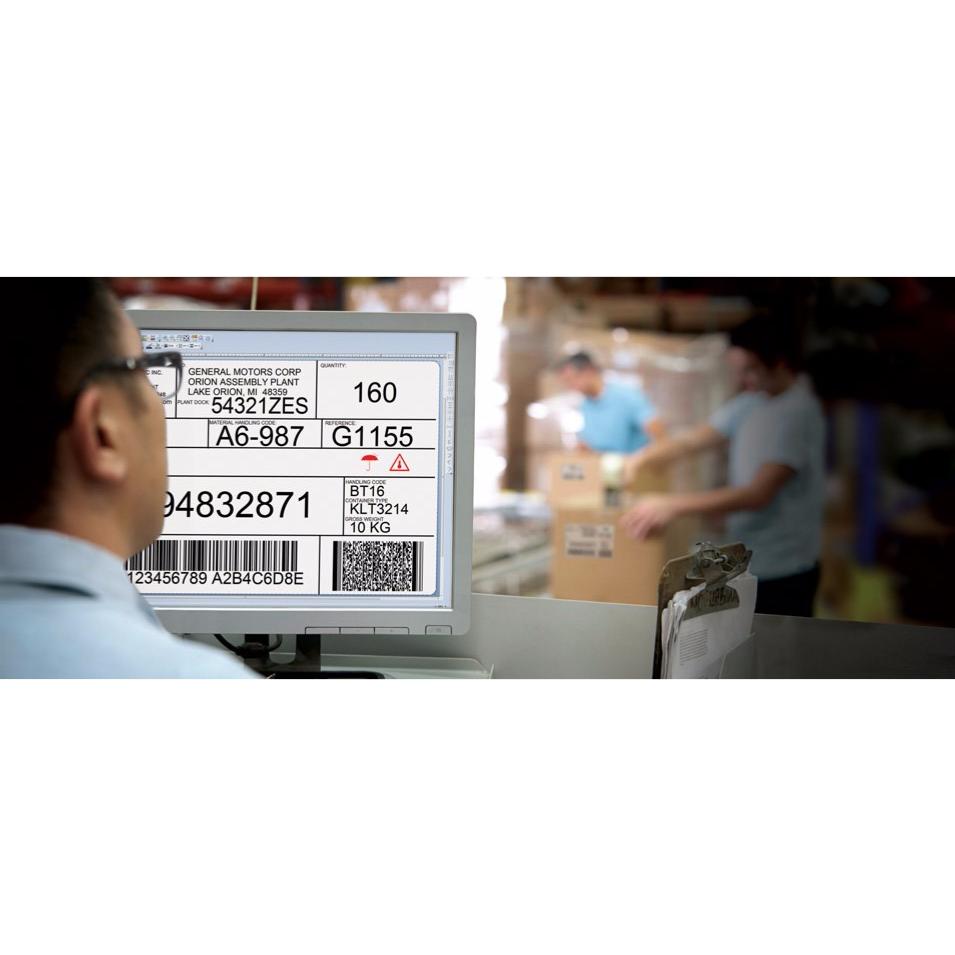 Software Gets Better (2010): We were selling a number of label design software packages but found that Seagull Scientific USA were working with Microsoft and had written many of the printer drivers and had developed BarTender a simple to use label layout designer using drag and drop methods. Our customers were bakers and cosmetic makers and the like and welcomed a simple to use label designer that they could start with to drag on the screen their artwork and print it to labels in moments, but had the power to grow with their business linking to product lists and working across a network with multiple users and printers when they expanded. We have helped thousands of businesses to use BarTender to design and print their own labels with ease and at low cost.
There are several levels of BarTender we offer depending on needs, even a free start up version. Click on the BarTender Screen photo to download the free BarTender label designer and see other versions.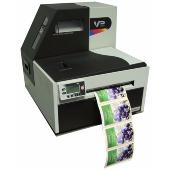 Bulk Tanks (2012): We expanded the range of machines quickly to cope with demand and to provide larger tanked machines for higher volume use. Memjet printer engines arrived from USA consisting of a relatively low cost print head considering its 8 inch width. It delivers a 'waterfall' if ink onto the moving label roll and is fast at 150 and 300mm per second. The 5 x 250ml ink tanks make it low cost per label, often a fraction of a penny, ideally suited to labelling food and fast moving consumer goods. Click on the photo of the VP700e industrial label printer to see our range of bulk tank label printers.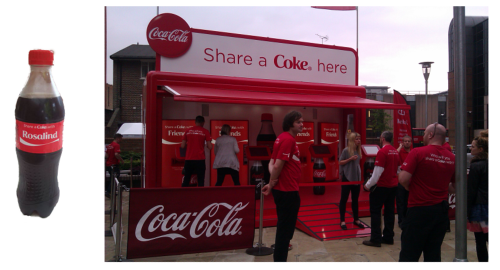 Special Projects (2015): We were getting quite well known for our work and were spotted by Coca Cola's marketing to help with the 'Share a Coke' project. Millions of labels were printed with personalised names but many customers could not find their own name. We helped by putting our printers inside promotional trailers and with a touch screen kiosk so that customer could type their own names and get the personalised labels they wanted.
We have carried out similar personalised label printing projects for Pepsi, Moet Champagne and over 350 of our Primera LX500ec label printers are distributed world-wide in each store of The Body Shop for personalising gifts in store. Call us on 01527 529713 and ask for the special label printer project team for advice.
Epson ColorWorks (2016): We became an authorised distributor for Epson ColorWorks and good timing again as Epson launched the C7500 and C7500G industrial colour label printers. These new models fitted our business model entirely and we were able to install over 300 machines winning us Epson ColorWorks partner of the year award two years running. The Epson C7500 series has even larger ink tanks this time 1/3 of a litre of ink in each CYMK tank. We found we could print a large sandwich box labels 80mm x 180mm for as low as 1.7p including paper label and the ink. The printers became popular for labelling fast moving consumer goods. The Epson CoverPlus next day warranty including print head warranty accelerated sales for us. Click on the top dealer award photo to jump to the Epson range. Epson have since launched the C6000 4 inch and C6500 8 inch wide high quality versons of their label printers with lifetime warranty available.
OKI Pro (2018): Having seen this amazing machine launched at Label Expo Brussels we became an authorised distributor for the unique OKI PRO 1040 and 1050. The OKI Pro label printers were the first I had seen to be purpose designed desktop industrial grade roll label printers using a heat fused toner to provide a highly durable print. The OKI PRO 1050 is further unique having and extra white print useful to print white onto clear or other pre-coloured label media as well as adding a white behind the colours to boost vibrancy. The OKI PRO does not need specially coated label media and can print onto most types of label substrate though those we stock with a thicker Kraft backing liner are recommended. The machine has a super strong rotary cutter that will separate strips of printed labels at the end of a run or can be used to print and cut individual labels, tickets and tags. Click on the OKI Pro photo to read more about this machine.
Primera Print and Cut (2020): New for 2020, the Primera LX600e and LX610e combined desktop colour label printer and cutter is a revolutionary step forward in our markets. For the first time customers can not only print their label designs but also cut them to size and shape as well. The LX610e only needs a roll of plain label material loaded inside to produce a wide range of label shapes and sizes. You can quickly choose a cut shape from a library of shapes or with the Pro software it will trace aroud the outside of the label image to create a cut path to follow. You can print and cut your different designs, even layout a label set like a neck label with front and back labels for a bottle for example. Click on the photo of the LX610e to see more.
Epson C6000 series (2020): New for 2020, the Epson C6000 Series. Following the success of the C7500 series Epson launch the C6000 series as 4 models, C6000Ae is the 4 inch wide with guillotine cut off, C6000Pe with peel and dispense action, C6500Ae an 8 inch wide version of the printer with guillotine and C6500Pe an 8 inch vesion of the peel and dispense type. The main difference of the C6000 series ove rthe C7500 series is the oscillating print head. By sweeping the printhead back and forth across the label to be printed a greater number of ink droplets can be printed producing a sustained higher print quality. The standard Ae version with guillotine cut off is the most popular with the Pe peel and dispense version finding applications to speed up hand apply or to feed printed and ready peeled labels tospeed up hand apply or for robot apply applications. Click on the photo to see these new label printers.
Eclipse digital label cutting and finishing (2020): New for 2020, the UK made Eclipse Range of digital label cutting and finishing machines let you further reduce labels costs and increase operational flexibility. You only need low cost plain uncut label roll and the Eclipse will cut out any label images you wish to print to any shape or size.
With say and Epson C7500G series colour label printer (or other roll label printer) and the matching ECLIPSE MINI digital label cutter finisher, you can use low cost plain rolls to print your labels images, then the ECLIPSE MINI will re-register on the printed images and cut them to any shaped labels in any quantity. The super compact ECLIPSE MINI is designed for a desktop label printer and available in 150mm wide (MINI) or 220mm wide (MINI+) versions and will work stand-alone so you load a printed roll from your 4 inch or 8 inch label printer into the finisher. Or you can run the ECLIPSE MINI in line with your C7500 or C6500 series label printer so that plain rolls become printed and finished labels wound to a neat roll in one pass. There is an Accumulator available to locate between the printer and the ECLIPSE MINI / MINI+ to pause and restart the printer as needed to print enough labels to continue to feed the finisher without the supply roll breaking. The ECLIPSE LF350s is availabel as floor standing models for larger / wider roll capacity to 350mm width.
The ECLIPSE finishers can add an optional clear laminate over the printed label images before they are cut to shape, making the system ideal for making highly durable labels.
The ECLIPSE LF350s can optionally be dual blade for increased throughput and also a barcoded job change system added where printing a barcode between each of your job sorts will automatically change the cutting path on the go..
Click on each of the photos to see more...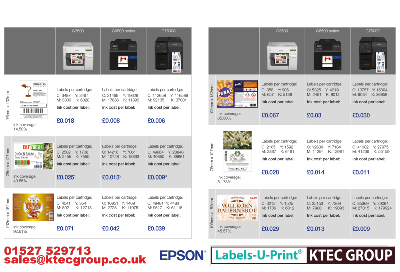 Click on the image to see an ink cost per label meaurement for range of different label sizes and colour cover.
Note be sure to send us a link to your artwork so we can mesure the cost per label exactly and also quote for the low cost blank labels.